Make your landscape lighting smart with Yolink Smart Control devices!
BUY THE PRODUCTS (below)
______________________________
SUNVIE 12W Low Voltage LED Landscape Lights with Connectors | https://amzn.to/3GSpYj1
Smart Outdoor Plug YoLink 1/4 Mile World's Longest Range Smart Plug Work w/Alexa | https://amzn.to/3as2TaI
YoLink Smart Outdoor Motion Detector | https://amzn.to/3Q21WpR
smart outdoor landscape lighting adds to your home's night experience!
This project took me a day to complete and I am very impressed with the results!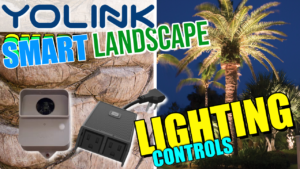 The neighbors even mentioned how nice it looked when looking outside into our yard with the palm trees all lit-up!
This is a project worth doing!
If you make sure you are using a reliable product for your landscape lighting project, you'll be more than impressed with the results and it will last a long time.
Total Page Visits: 993 - Today Page Visits: 1