I used this type of Solar landscape ground lighting in order to light-up the driveway entrance to my home. These are especially useful for lighting the perimeters of a deck, or a dock, or patio.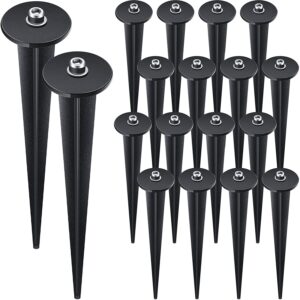 I used another product to help mount these solar ground lights into the grass edge of my driveway. The products I used was these ground stakes: 16 Packs Threaded Spike Flood Light Ground Stake | https://amzn.to/3a0kxCs
GREAT solar lighting for driveways, sidewalks, decks, or docks
This solar landscape project provided impressive results that only took about 30 to 45 minutes to complete.
*Some products may contain an Amazon Associate's Link or Manufacture Links. These links DO NOT affect your Amazon pricing. The links may provide twHomeShow a small commission, as an associate. My reviews, explanations, and uses of products within my videos are my honest and true opinions.
_____________________________________
BUY THE PRODUCTS FROM THIS VIDEO (below)
EXPLORE the TsunLIGHTING Website here and ENJOY 20% OFF with my Coupon Code: twHomeShow
https://www.tsunlighting.com/collections/solar-deck-lights/products/gray-shell-solar-deck-light?variant=37252918739112
HERE IS the extra stuff I PURCHASED for my PROJECT: 16 Packs Threaded Spike Flood Light Ground Stake | https://amzn.to/3a0kxCs
Steel Pan Head Machine Screw, Black Oxide Finish, Meets ASME B18.6.3, #2 Phillips Drive, #10-32 Thread Size, 3/4″ Length | https://amzn.to/3PMbpBx
TsunLighting on AMAZON | https://amzn.to/3NmStYG
Total Page Visits: 2036 - Today Page Visits: 2