Venstar COLORTOUCH Thermostats
By
twhome
on December 27, 2013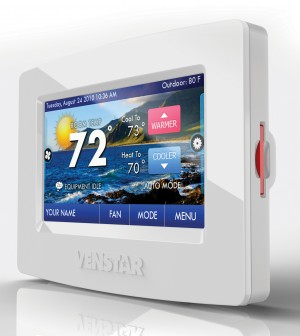 Thermostats
I purchased one of these Venstar ColorTouch Thermostats approximately 2 years ago for our previous home and was pleasantly surprised by the color touch screen control panel as well as the easy to schedule menu.  About 6 months after I purchased it they announced the new Skyport WiFi attachment. Of course I purchased this immediately and had my ColorTouch thermostat set-up wireless and available to me over their Venstar App on my Android phone and tablet.
We have pets at home during the day so the app to control the Ventar thermostat was a great feature when the weather changed drastically during the day. This feature is also great so you don't have to get up and go to your thermostat to adjust the temperature!
Before I get way into explaining the great features of this gadget, I want to tell you since we moved into our new home here in December (2013), I took the Venstar ColorTouch thermostat with me to our new house and even purchased another one so we will have matching units. Our new house is a two-story home with two air conditioners (one on each floor). So now we have one Venstar ColorTouch thermostat unit on each floor.  I couldn't be happier and my wife love's them too!


If my wife or I wake up in the middle of the night we just grab our tablet or phone from the headboard and go directly into the Venstar App and adjust the temperature instead of getting up (half-awake) and walking out to the hallway to make a simple temperature change. 
The Venstar App currently is ranked 4 1/2 out of 5 stars on both, the Google Play store and the Apple App Store.  The App works with phones or tablets very well and has the ability to change temperature through WiFi, or check multiple thermostats, check your current local weather, show your energy use and more.
Here's the link to it at the Google Play Store:  VENSTAR – COLORTOUCH SKYPORT APP
For Apple, use this link to the iTunes App Store:  VENSTAR – COLORTOUCH SKYPORT APP
Description
The Venstar Skyport Comfort Control App allows iPhone, iPad and iPod Touch users to remotely monitor and control their heating and cooling systems. From the couch to across town, with Comfort Control you may control up to 10 locations with up to 10 thermostats at each location from your mobile device.Skyport Comfort Control features include:
✔ Simple, easy to use control of the thermostat.
✔ Current weather and forecast is displayed for each location.
✔ Monitor energy use.
✔ Send personal texts directly to the thermostat's display, such as: "I will be home at 6pm for dinner".
✔ Receive alerts when the space where the thermostat is located is too hot or cold.
✔ Turn on/off time period programming or vacation settings.
✔ Emails may be configured to go to your HVAC service provider when service is needed.
Compatible with Venstar ColorTouch thermostat models: T5800 & T6800.
Back to my story.  I've researched the NEST Thermostat in order to see if I wanted to move to another brand in our new home, but after my research I reflected on how I was so pleased with the looks and touch-screen and the reliability I've experienced with the Venstar COLORTOUCH.  Why would I change to a thermostat that has the basic appearance of a thermostat that I used 40 years ago?
So I choose to keep my Venstar COLORTOUCH and add another one for our second floor, as well!
When I originally searched for WiFi Touch Screen Thermostats, I found that some of them wanted me to subscribe to a monthly or yearly service contract just to take control of my own thermostat.
Why is that?  I bought your product, and now I have to pay every month to use it as intended? Over my own WiFi network that I already pay for.
I really didn't like these options, so when I found the Venstar Thermostats that operated over my existing WiFi home network, I was sold.
VENSTAR IMPORTANT LINKS:
FEATURES http://www.venstar.com/Thermostats/ColorTouch/Features/
---
---
Here's my VENSTAR ColorTouch Thermostat – INSTALLATION VIDEO