My Home Personal/Business Network Set-Up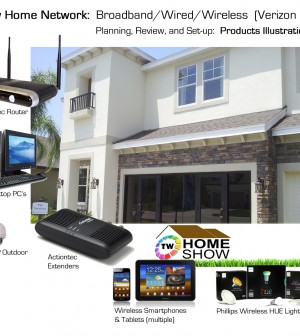 Hi everyone.  I've begun setup of a new home network at my new home.  We purchased our new home in December 2013.  I had to setup my home wired and wireless network with great precision being that this is a brand new home and I really want to make my network strong enough to last for years to come, and with all of the new home automation technology coming in the near future, I'll have to make sure my wireless connection throughout the entirety of the house has outstanding signal strength!
With this information, I'll move on to the products and services I've chosen to make my home network project come together as I expect it will.
The Cable/Broadband Service into my home will be provided by Verizon. I had Verizion FIOS in my previous home for 5 years with absolutely no interruptions in service or quality!


Verizon FIOS Broadband/Triple Play (Cable/Internet/Phone)
I got a pre-paid MasterCard for signing-up on a 2-year contract ($300).
The Wired components of my network include the following:
Verizon's Westell or Actiontec Wireless Router
Actiontec's MOCA wired Extenders
2 – PC's will be wired (one by a MOCA Actiontec extender)
1 Smart TV will be wired (by a MOCA Actiontec extender)
Wireless components of my network may include:
I might ADD an Asus Wireless Router – configured as a wireless access point (centrally located with-in the home) this will solve wireless dead-spots!
Smartphones and Tablets
IP Wireless Security Cameras > Read my other article here
Phillips HUE wireless lighting
Wireless Door Locking, Garage Door Components
Wireless Thermostats (Nest, etc.)
This list could be endless as the wireless home technology booms in the next few years!