Transform Your Kitchen Cabinet Doors with Soft Close Adapters!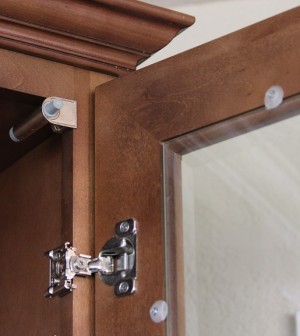 I came across these handy soft-close cabinet door adapters on Amazon.com. 
After moving from my old house that we installed top-of-the-line kitchen cabinets with the upgraded option of soft-close door adapters and soft-close drawers, I really missed them when we moved here into our new home. If you've ever experienced the nice opportunity to sleep in later than your spouse (my wife in this case), but were interrupted from your sleep daily as she made her coffee in the mornings as if she were mad at the world for having to wake up earlier than you, and she took it out on the kitchen cabinet doors as she slammed them shut, then you can relate as I explain the joy I had when we installed our new kitchen with the upgraded option of soft-close cabinet doors and drawers.


These little things are awesome!
 was created with you in mind.
Eliminate the sound of slamming cabinet doors.
Lower the wear and tear on your cabinets.
Protect the fingers of your children.
Easily transform your cabinets by installing the same hardware used in designer homes today!
These handy adapters can be found online at: www.SoftClose.com or, if you are looking for a larger quantity you may be able to find them at Amazon.com in packs of 10 or 25 like I did.
What to expect from the SOFTCLOSE Branded cabinet door adapters:
PRODUCT:
SOFTCLOSE DAMPERS are truly one of a kind.They are the very first dampers ever created using zinc die cast housing technology. What exactly does that mean? It means that our dampers were made to last and will have no problem preventing your cabinet doors from slamming! It's a smart home improvement purchase that has been used to increase property value, while also giving your home a high-end designer feel. Whether you own or rent, you deserve to love where you live.
FEATURES:
Made using zinc die cast housing technology – they were made to last!
Includes a hassle-free lifetime warranty
Unlike other soft close dampers, we use anontoxic, child-friendly, vegetable oil-based lubricant
Works for face frame cabinets on all door overlays & for frameless cabinets on full overlay doors
Protects little fingers from being pinched
Blends in well with hinge finish
Is non-handed with a low profile design
Is manually adjustable to desired closing speed
Is easy to mount in the corner of cabinet
Has a scratch protector and front bumper with cushion for a quiet close