SmartThings Smarthome: Devices and Things
My Arsenal of Devices and Things
As you may have already known, I am a SmartThings user when it comes to creating my smarthome. I have bought "ALL-IN" to the Samsung SmartThings hub to connect all of the devices and things within and around my home.
Some of the reasons I chose SmartThings to develop my smarthome were because:
No Monthly Fees for the SmartThings Hub
There are a variety devices from different brands that can be used within your home.
Excellent reviews from around the internet about the SmartThings hub.
Affordability. The SmartThings hub is only $99 and you are able to shop around for the many devices available being that you're not stuck with just one brand.

Easy setup.

User friendly smartphone/tablet app.
---
Ok, now as far as what I have equipped my home with to make it my smarthome . . . you should know a little bit about my home and my goals for achieving near full home automation. This way you can determine a way to scale your home scenario to fit your own needs whether it be smarter, larger or smaller.
---
My home is approximately 3900 square feet with a pool courtyard and a large screened back porch. It is 2 story with three bedrooms and a bathroom upstairs that we only use when family or guests stay. It also has a separate mother-in-law bedroom/bathroom suite separate from the main home. It has a pretty expansive range so I am using "Open Mesh" access points around the compound to achieve a high range of available wifi depending where you are located around the home. I have deployed 4 "Open Mesh" access points around this compound to accomplish great wifi signal.   
---
Let's jump right into the SmartThings Hub and Devices I have deployed into creating my dream of a smarthome . . .

Here are the devices I have within my Smarthome:
Keep in mind these ALL work with the Samsung SmartThings Hub unless otherwise indicated.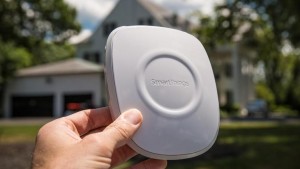 $99: The Samsung SmartThings Hub. This is the heart of my smarthome. It operates and controls all of my devices that control the things around my home. I originally purchased the version 1 of the SmartThings hub and to this date have it operating even though I have the version 2 SmartThings hub that arrived last week (Oct. 2015). I am awaiting for the SmartThings team to develop and easy method to save my devices programming before I hook-up my NEW hub. Otherwise I would have to reconnect/recognize all of my devices to the new hub which could easily take a whole day to do!
$15 – $22 each: GE WiFi LED Light Bulbs. These are an equivalent of the 60 watt bulbs that you may already have around your home and they are also dimmable! In some instances you may want to use a WiFi light LED bulb instead of an in-wall Z-wave light switch. If you opt for the in-wall switch you should replace any incandescent light bulbs with LED light bulbs just because you want to make your home efficient as well as smart! Read my article about LED Light Bulbs HERE.
$30 – $40: Aeon Labs Z-Wave Smart Energy Switch. This is a great little device that will not only switch on and off independent free standing lamps and electric fireplaces as I have used them for, but they also have a built-in meter that monitors energy consumption as well as repeat Z-Wave commands to other devices around your home!
$35 – $40:  GE Z-Wave Wireless In-Wall Switch. When you have a room that has multiple ceiling lights you will want to incorporate this type of switch to instantly turn on or off the lights all together. This is great for kitchens, patios, garages and other rooms and spaces when you need full on lights. If your light fixtures are equipped with dimmable light bulbs you may want to consider the GE Z-Wave Dimmable In-Wall Switch.
$40 – $45:  And here's the GE Z-Wave Wireless In-Wall DIMMER Switch. When you have a room that has multiple lights that you want to dim at different levels of brightness, you'll want this In-Wall GE Light Switch installed. But remember if you have the GE LED WiFi light bulbs installed then you won't need this dimmable switch because you will be able to dim the WiFi light bulbs by themselves!
$25 – $30:  Ecolink Z-Wave Motion Sensor.  The motion sensor incorporated within your SmartThings hub and home allows you to control your lights or things when you walk into a room. I highly recommend these affordable Z-Wave motion sensors for your smarthome. I used these when entering my bathroom to turn on the bathroom mirror lights as well as the commode room lights. I also use this to turn on ALL of my kitchen lights when I walk into the kitchen area. Another way I have used this is on my pool patio, so that when I step out onto my patio the sensor turns on my ceiling fan to create a breeze!
RELATED ARTICLES:
28 Genius Tricks:
​How to Save Money on Amazon 
and Get Free Stuff