Schlage FE595VCAM716ACC Camelot Keypad Accent Lever Door Lock, Aged Bronze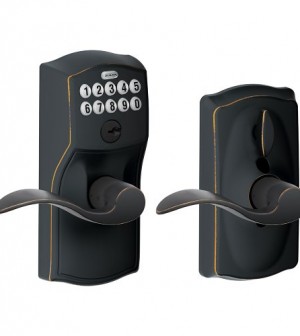 Product Features
Keyless entry providing enhanced security
Reversible lever for use with doors that are either right hand open or left hand open
Outside assembly - 6.84 inches tall, 3.01 inches wide, 2.74 inches deep; inside assembly- 5.75 inches tall, 3.01 inches wide, 2.77 inches deep
Quickly add or delete user codes at keypad using the lock's unique 6-digit programming code
Easy installation with no wiring required - 9-volt battery included
New Price: $119.00
Old Price: $119.00
(as of 10:54 UTC -
More info
)
Product Description
The Schlage FE595VCAM716ACC Camelot keypad accent lever door lock offers you the convenience of keyless entry so you never have to worry about losing your house keys again. With the ability to program up to 19 unique user codes, friends and family can be granted their own personal codes for quick and secure access. In addition, you are provided the peace of mind knowing that these products are built from superior quality ANSI grade 2 materials, giving you the highest level of security at the main point of entry.
Camelot Keypad Handleset At A Glance:
Flex lock feature allows you to lock & leave without a key

Program up to 19 unique user codes

Ideal for front doors, side & back doors, garage entry doors, etc

ANSI/BHMA grade 2 certified

Lifetime limited mechanical warranty
Product Features
Flex Lock
The innovative flex lock functionality of the Camelot keypad door look can be set to either lock automatically after five seconds or remain unlocked for easy access.
Illuminated Keypad
The buttons on the keypad light up when touched for better visibility at night. The keypad also has a wear-resistant coating, so wear patterns are not visible
Installation
Using just a screwdriver, you can easily replace most existing deadbolts in about 30 minutes.
Programming
With two individual user codes pre-programmed in the unit, the Camelot keypad comes ready to use right out of the box.
Reversible Levers
You can reverse the interior and exterior levers for use with both left hand open and right hand open doors.
How will a keypad lock work for you
Busy Family
Don't worry about your child losing or forgetting their key. With a Schlage Camelot keypad lock, each member of the family can have their own 4-digit code that will be easy to remember. If relatives are visiting, program a temporary code for their stay.
Outdoor enthusiast
Going for a jog or a ride? With a keypad lock, you don't have to carry a bulky key chain or worry about losing your keys along the way. Simply press the Schlage button and turn the deadbolt to lock the door, and use your personal code to unlock when you return.
Pet Lover
Keypad locks allow you to give your neighbor or pet sitter a code of their own while you are away. When you return, simply delete the code from the lock. All programming can be done from the keypad; there is no need to remove the lock from the door.
Rental or Vacation Home Owner
Install a keypad lock at your rental property and save yourself the hassle of replacing locks or exchanging keys. When your renter moves out of the house simply delete the old code and add a new code for the next tenants.
About Schlage
At Schlage, we've been helping people feel more secure for over 90 years. By building commercial grade quality into every product we make, from remote security systems to stylish door knobs, we've become the leader in home security and hardware products. And with innovative new solutions like wireless and mobile security, Schlage is helping build the homes of the future—and delivering the security products people need to live better, more comfortable lives.
Warranty Information
Schlage offers a limited lifetime mechanical and finish warranty, and a one-year limited electronics warranty on the FE595VCAM716ACC Camelot keypad accent lever door lock, to the original consumer, covering against defects in material and workmanship.
What's in the box
The Schlage FE595VCAM716ACC Camelot keypad accent lever door lock includes one external keypad and lever, one internal lever, one 9-volt battery, three faceplates, one strike plate, one lever removal tool, installation instructions, and programming manual with one 6-digit programming code and two preset 4-digit user codes.

Customer Reviews