PODS Moving and Storage Option
By
twhome
on November 28, 2013
My experience with PODS during my latest move was very good!
Working with the PODS moving and storage solution can be done completely online. I love websites that give you complete control over the internet. You're able to make the purchase, setup the moving date and complete your payments completely over the internet!
The PODS solution helped make my move as organized as a move can possibly be. I was able to work at packaging and loading my furniture and belongings over several weekends at my leisure. All I needed was my trusty hand truck and my furniture dolly. My wife and I were able to move everything we needed within the 16 foot POD we chose to rent. There were a few items we chose to move with the help of a professional moving company on the day of move-in. This was a decision we made mostly because we wanted those furniture pieces delivered and moved up to the second story of our new home.


Why PODS?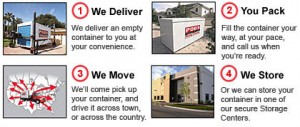 Whether you're moving down the street, across the country, or into storage, PODS will make the experience better than it's ever been. Imagine packing at your own pace. On your time-table. To your standards. Then leaving the driving to someone else—and leaving the hassles behind. Choose your expected moving need below to learn how PODS can take the stress out of your move.
How PODS Compare to Other Alternatives
Frequently Asked Questions
How is PODS different from other moving and storage options?
PODS brings the container to you. You load and unload at your own pace. PODZILLA's innovative design keeps the contents level as the container is gently loaded and unloaded onto the delivery truck. No strenuous lifting putting your possessions into a truck. PODZILLA's advanced hydraulics simply and securely raise the PODS container with your belongings onto the PODS' truck. If needed, we store the container in one of our secure Storage Centers.
How does PODS prevent my contents from being damaged during the move?
Our professional drivers are experts at transporting our PODS containers. The use of PODZILLA minimizes the possibility of shifting or damage. PODS offers a complete variety of packing services and supplies. PODS also offers a comprehensive content protection program.
How long do I have to load or unload the container?
PODS allows you to pack your PODS container at your leisure. There are no deadlines, time pressure, you move when you are ready.
I don't know yet where I'm moving. How can PODS help me?
PODS provides services in most major markets. Moving longer distances may require the movement from one secure Storage Center facility to another. PODS is the ideal solution to pack and unpack your belongings only one time and store them in our secure warehouses when needed. Most movers pack and unpack your possessions several times when moving and storing them.
What is special about a PODS Storage Center?
PODS Storage Centers are designed from corporate guidelines to assure the secure movement of your container from one location to another. They are secure, dry facilities that accommodate the storage of individual containers. You have the only key to your lock on your container.
What if I need to access my contents while they're in storage?
You can schedule access to your container by contacting our customer service department. Access is available to our Storage Center locations typically within 24 to 48 hours, 6 days per week. There is no additional charge for this service. PODS internal container access can vary by location.
Do I have to be there when you deliver?
No, although we recommend that someone be present whenever possible. Our deliveries and pick-ups may occur at any time after 7:00 am local time. The customer is responsible for ensuring that there is adequate clearance and accessibility for the desired location of the container.
LEARN MORE ABOUT PODS:  Watch the video below