How Should I Move My Stuff?
By
twhome
on November 28, 2013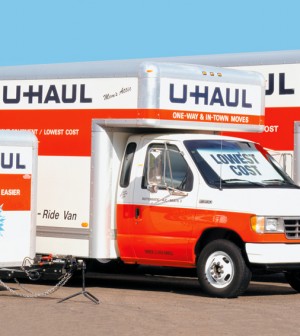 After many website searches for ideas on the best methods to get all of our stuff to the new house I came to the conclusion that it was not only the affordability I had to consider, but also the timeline as well as the convenience.
This was not going to be like the typical moves I've made from apartment to apartment that I've made so many times in my younger years. Back then I would just box up all of my stuff, with the most important box being my Playstation and video games. I would just go to the nearest U-Haul and rent a truck for the day and it would cost me approximately $200.


This move is so much bigger!  I'm married with 3 golden retrievers and have accumulated so many household items that fill our 3 bedroom 2 bath, 3 car garage, pool home of 2568 sf. My wife and I both share a fully functional home office, as well.
There are basically 3 main moving choices for moving your household stuff:
Rent-A-Truck.
[U-Haul, Ryder, etc.]  Basically a DIY. This choice is probably the most affordable option if you have the time to take off work and load all of your boxes, furniture, and belongings in one day. This option will require several family members and/or friends as well as a reliable hand truck and moving dolly. This option will leave you very exhausted!
Hire A Local Moving Company.
[Two Men & A Truck, etc.]  While this option may seem costly, you'll have to consider the convenience of having the "man power" and you won't have to break your back on "moving day".  In order to find a reputable moving company you'll have to do some online research. By this, I mean not only shop for competitive pricing but most importantly read the customer reviews for each company. After all, you don't want your furniture demolished in the moving process!
Rent A POD.
[PODS Moving & Storage, U-Pack Moving]  A DIY without the transporting and plenty of time to do it.  I found this option makes for a great stress-free way of packing and moving your belongings from home to new home (driveway to driveway). It is one of the best ways to move if you're moving from a house with a driveway to another house with a driveway. Your POD can be delivered to your driveway weeks before you make the big move. You'll still need a hand truck and moving dolly but you can move all of your boxes, furniture and belongings into the POD in your driveway any day or weekends you like. Before the day of closing, you'll be able to login online at PODS.com and schedule the day you want your POD picked-up and delivered to the driveway of your new home. This was the first time I used PODS and I've found the experience very easy. It's slightly more cost than renting a U-Haul truck and slightly less than hiring a moving company. Here's a little VIDEO of my POD . . .
If you have other moving ideas or wish to share your experience, please share in the comments section below . . .