Home Security Cameras: Buying Home Security Cameras
Use your ← → (arrow) keys to browse
I don't like wires and I don't like cumbersome security camera DVRs, so I'm only going to talk about wireless IP Security Cameras.
To be more exact I'm talking about home wireless ip security cameras. WHY? because ip security cameras are affordable, easy to setup and easy to use. If you're going wireless with an ip security camera it's even easier because you wont have to cut through walls or snake wires through attic space to connect your security cameras.


There are so many types and makes and models and shapes of ip security cameras, but they are ALL basically the same when it comes to setup and functionality. Look, here is a selection of ip security cameras that I have cut and pasted below, offered up from many different stores on the internet.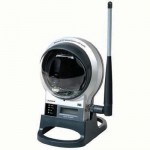 Use your ← → (arrow) keys to browse
SUBSCRIBE TO MY CHANNEL
ALL NEW | Product/Merchandise