Garage Storage Solution: Assembly and Mounting
I'm happy to say I finally made the purchase of our new garage storage cabinets for our new home. I ended up going with the "Ulti-MATE" name brand cabinets after researching for quite a while. Heck, I've already wrote about Ulti-MATE garage cabinets in a previous article!



It took a good 10 to 12 days for the shipment of cabinets to arrive at my house. The delivery was by freight truck so they called me to schedule a day for delivery after it arrived at the local Tampa facility.
I purchased the "Nine Piece Set of Garage Storage Cabinets" for my garage. I also added two rolling base cabinets to my order, bringing my cabinet count to a total of eleven. This is approximately 17 linear feet of storage cabinets. It looked very challenging when the pallet of cabinets were finally delivered into my garage. The first thing that came to mind was "this is gonna take a couple weekends". But then I remembered my brother sometimes took on odd jobs during slow months from his regular job. I was able to hire him for the job the next day!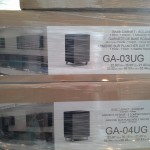 The assembly of all eleven storage cabinets took my brother about 7 hours. This saved my weekend to mount the upper wall cabinets and actually start filing them with all of our stuff and finally unpacking the rest of the boxes from our move! It feels so good to get organized again!
There are several online stores that stock the Ulti-MATE Brand Storage Cabinets. Here's a few:
www.CarGarageGuy.com
www.GarageAppeal.com
www.pro-garages.com
Garage Storage Cabinet Assembly
The packaging was very well and every item was packaged in a protective fashion to enable some scuffs and scrapes along the way without damaging the product on the inside. The assembly difficulty level was fairly easy for someone that has previous experience in putting furniture together from a box.  There were no problems with missing parts or pieces. The larger cabinets are, for sure, easier to assemble with the help of another person. The only real issue with the assembly was with the two rolling base cabinets. When assembled the drawer tracks didn't reach enough from side to side, so when you pulled the drawers out they would fall out of one side of the track. This took a slight modification of inserting spacers behind every drawer hinge-track. Extra time was approx. 5 mins per cabinet (only the rolling base cabinets).
Ulti-MATE Brand Quality and Durability
In my opinion, I think the look of the cabinets appear like they are made out of steel. This may be because I purchased the grey colored cabinets. The sheen of the grey laminate along with the rounded edges make it look like a tough steel. They seem pretty solid. I've had my fair share of experience when it comes to kitchen cabinets and I'll say these are definitely sturdier than your average kitchen cabinet. Which is a good thing because a lot of garage storage items are usually heavy.
Another thing I like is that not only are the outer doors covered in a strong durable laminate but even the inside adjustable shelves are covered in this strong laminate and the laminate cannot be easily scraped or nicked.  Cool, because I'm loading a lot of tools in some of my cabinets and some of my power saws  and other tools with sharp edges will be thrown in these cabinets.
Mounting The Storage Cabinets
I decided to only mount the upper wall cabinets. I could have bolted all of them together and to the wall but I thought I may want to move the lower cabinets to clean under them sometime in the future. The wall mounted cabinets were easy enough for me to hang by myself. It was a pretty straight forward and easy process. Just measuring, leveling and screwing in the wall mount brackets. The hardware package included drywall anchors for instances were you can't hit a stud. I was lucky enough to screw into several studs across the length of four wall cabinets. You can watch my movie here:  Garage Storage Cabinets: Mounting