Flying Drones: It's the new craze. Do you have one yet?
Online Drone and Quadcopter clubs and forums
---
Since I was a little kid I have always been interested in remote controlled toys such as remotely controlled vehicles, airplanes, helicopters and now drones!
I remember the last flying toy I purchased was about 5 years ago and it was a remote controlled helicopter. I saw a vendor at the mall just before Christmas time and he was a pro! He was flying this little helicopter all around his booth and he made it look so easy. My wife saw my interest as I was watching this helicopter flying over everyone walking past the booth and my mouth must have been wide open while watching with amusement, because she asked me if I wanted her to buy me one for Christmas. Of course, I said YES!
Well, after bringing it home and charging the battery up and reading all of the owners manual I thought I was prepared to fly. It was nighttime by then, so I decided that our 3-car garage would be the perfect spot to learn how to fly this thing without embarrassment of crashing in public.  
Needless to say, I embarrassed myself in front of my wife and myself that evening because I could not keep that helicopter up in the air any longer than a few seconds at a time before crashing hard every time.
---
FAST-FORWARD to this past Christmas (2015)
Quad-Copter Drones are "the Thing" now. I had did a little research on them with my tablet over the internet and watch some QVC, Home Shopping channels with them displaying and selling these new flying drones and my wife, once again saw my interest in these remote controlled things. She ended up telling her parents that I might like a drone as a Christmas gift. So, low-and-behold, that's what they got me for Christmas this past year.
They got me an "xDroneHD" by WebRC. This little thing had an HD camera (supposedly) mounted in the front of it and would record pictures and video while in-flight. The only thing wrong with it was the lack of control you have while trying to maintain this drone in the air. It was just like my dream of the helicopter I got from my wife about 5 years ago. Dammit! I thought things had improved since then with the technology and all and the QUAD-Propellers.
---
I went back on my tablet to research drones again. Maybe it was the amount of money you had to spend in order to get a Drone that flies EASIER!
After further research I noticed some IMPORTANT keywords to look for in some of the drone descriptions: 
---
THESE are KEY to choosing a drone that is easier and more enjoyable to fly. 
---
I ended up purchasing 2 NEW Drones and I'll share my experience with BOTH of them when I get them. Here are the drones I purchased: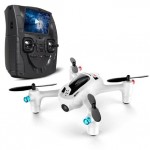 The Hubsan H107D+ was my first purchase as this was available through Amazon.com at approximately $220. The battery is proprietary though and I found out it wasn't available to purchase extra batteries or accessories for this drone until after February of 2016. 
BATTERY LIFE:  7 to 10 Mins.
BELOW, you can get an idea of the video taken from this drone. This is recorded video from my first outdoor flight with my Hubsan H107D+ FPV Drone. I am going to recommend placing a patio block down in grassy areas because sometimes the drone's propellers got caught-up in the grass blades and prevented it from coming off of the ground. So I will be practicing with a patio block landing pad on my next go-around 🙂 It will be cool if I can get as good as to land it right back onto the pad.
---
This is a palm-sized nano-drone that I found on indiegogo.com in Janurary 2016. I am going to review this with you when I get it. I purchased this for $259 and it comes with the carry case and quick-charger for this price.
BATTERY LIFE:  12 to 15 Mins.
UPDATE:  (July 2016) I finally received the ONAGOFLY Nano Drone. I ended up selling it on EBAY (unopened) because I promised my Wife that I wouldn't keep it if she purchased the Phantom 3 Advanced for me as a Valentines gift.
---
I WAS SO CLOSE TO PURCHASING THIS DRONE:
The Phantom 3 -Pro would have cost me approximately $1200. BUT the battery lasts upto 25 minutes and flies upto 3 MILES AWAY!
BATTERY LIFE:  23 to 25 Mins.
---
I ended up purchasing the DJI Phantom 3 STANDARD
The Phantom 3 STANDARD version cost me $499 on Amazon.com
Learn More about  the DJI Phantom 3:  I'll share more about my experience with the DJI Phantom 3 Standard.
Here's my Prep & 1st Flight Video:
---
FEBRUARY 2016:  I ended up returning the Phantom 3 STANDARD drone due to poor flight distance and my Wife purchased the Phantom 3 ADVANCED drone for me as a Valentines Day gift.
Here's one of my First Flights with my Phantom 3 ADVANCED drone. It's simply AWESOME! As you can see how smooth it is on one of my first flights around the neighborhood.