Crystal Chandelier: All about it. Choosing the right one, and Installation
The story of how and why we wanted a nice modern crystal chandelier:
It started out as my wife and I hiring an interior painting company to paint the entire interior of the new house we purchased in December 2015. The original interior color of the walls and ceilings through-out the interior were golden yellow. Sure it was nice and bright but it seemed a little outdated so we hired a painting company to give us a couple of newer style colors such as "Balanced Beige" and "Intellectual Grey". They turned out to be very modern, nice looking colors all through the home. We love the new colors!
The problem was . . . when the painters got to our 18 foot high ceilings they used a Scaffold to move around and paint from. When they moved too close to our old existing entry chandelier they knocked it and the whole thing came crashing down onto the floor! Destroying it.
I negotiated a small discount from the painting invoice and was kind of happy that I could replace that old thing anyway. Now I had a reason to replace it. My wife wasn't as thrilled as I was about this mis-hap because she's the frugal one in our relationship. But anyway, life goes on.
---
---
The PURCHASE of our CHANDELIER:
My Wife and I spent hours scouring the internet and Amazon.com looking for an impressive looking chandelier for a replacement. We kind of want to make our home theme Modern/Rustic combined, or kind of like a Colorado lodge feel, if you can image that. We finally found a chandelier that we both agreed on through Amazon.com and purchased it, and here is the direct link: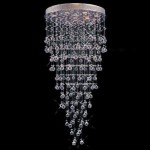 Modern Contemporary Chandelier "Rain Drop" Chandeliers Lighting with Crystal Balls! W 36″ X H 90″
This was a modern crystal "Rain Drop" lighted chandelier that was very big in size to match the room height.
The only problem with it was that it was lighted with 22 – 50 WATT Halogen light bulbs (GU10 bulb) that were non-dimmable. Can you imagine the electrical meter box spinning while you had that chandelier lighted? That's a total of 1100 WATTS just to power that chandelier!!
So, I searched Amazon.com for dimmable 50 WATT equivalent LED light bulbs that would fit with this chandelier and I found them. They only used 4 WATTS of power per bulb! That was only 88 WATTS total if it was at FULL lighting power. But, I also purchased a Smart Dimmer Switch (Z-Wave Wireless) so that we would probably only have it below half power most of the time.
We received our new chandelier within a couple of weeks and I looked into the 3 – packages that it comprised of. I thought, it would be a great feat for me to try and install this monstrosity by myself, or even with the help of my Wife, being that the ceiling was 18 foot high!
---
The INSTALLATION of our CHANDELIER:
I talked my Wife into having a professional company install it for us after it sat in our garage for over 2 months. I found a couple of companies that install lighting fixtures but the one I found most impressive was "Small Jobs Electric" because they had an entire webpage on their website dedicated to chandelier installations.
The chandelier we purchased weighed over 85 lbs. so it required additional supporting in the ceiling attic space to support this kind of weight and Nathaniel with Small Jobs Electric made sure to address this additional work that needed to be performed before the installation of this heavy chandelier.
---
The RESULTS of our CHANDELIER:
We couldn't be more amazed at the features and choice of the chandelier we picked out for our home in the area it is hanging from, 18 foot high in the entry-way.
We can dim it to what-ever brightness we want and it shines beautifully at any brightness, even when it is off the sun catches the crystals and shines a reflection across the walls and ceiling!
We LOVE IT!
---
VIEW the GALLERY:

---
WATCH the Completed VIDEO: