DJI – Phantom 3 Standard
Date:  Feb. 4th, 2016
I received my DJI Phantom 3 Standard drone this evening. Finally, after being on the fence about whether to make the purchase or not. After all, it is a pretty big decision to make with the price of it and all of the accessories you may want to buy along with it. 
I don't have a video photography career or any other kind of professional use for it but I thought it was the next step for my hobby. I tell you, drone flying is kind of like boating or motorcycling, you always want to go a little bit bigger in size and you always want all the gadgets and accessories to go along with each of them. Damn, it gets so expensive!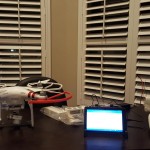 DJI Phantom 3S: UN-BOXING
First things first – I unpacked my brand new DJI Phantom 3 Standard.
Everything was accounted for and I also purchased a few accessories that came in separate packages. Everything arrived in acceptable condition as far as I can tell.
DJI Phantom 3S:  FIRMWARE UPDATES
After installing the battery and connecting the Remote Controller by USB and logging into the DJI GO android app, I discovered I had to connect to the Phantom 3 by WiFi. This is an exclusive WiFi connection directly to the Phantom 3. I went to settings within my Tablet/Smartphone> WiFi Settings, and choose the Phantom 3 WiFi choice and it requested a password for the Phantom 3 WiFi connection. This default password is: 12341234
Downloading the DJI Firmware update VIA your home WiFi connection….
AFTER it's downloaded, you'll need to go into your android settings and chose your "Phantom 3" WiFi connection to upload it to your copter.
---
I made ALL of my purchases through AMAZON.com – So here's what I purchased . . .
I also had a brand new Voyager 7″ tablet that I purchased from Walmart during this last Christmas holiday for $35. I had one left over because we purchased a few for our family members but we discovered one already had a tablet.
The holder/mount for the 7″tablet will replace the included smartphone clamp and provide a mount for a tablet upto 7.9″
---
Tablet Mount Holder (7 inch Android or iPad Mini):  VIDEO REVIEW
This is a replacement for the smartphone clamp that comes standard on the Phantom 3 Standard remote control.
With this nice, high quality tablet mounting bracket you'll be able to have a bigger view of the DJI GO app while piloting your Phantom 3 Standard drone. Just like the other models, Phantom 3 Advance and Professional, you too can have a nice bigger tablet to view and perform functions from your remote mounted tablet.
---
Microraptor by Pro Cases:  VIDEO REVIEW
A high quality travel/storage case under $200. When you start looking to save money on a storage case for your Phantom 3 after you purchased it and think you already spent enough money on the quadcopter itself, you'll start to think you can save money by scrimping on the quality and expense of the case. But don't sacrifice on the case quality! I found a case under $200 that will last a long time and serve your needs.