Brinkmann Led Low V Combo Spotlight 13.70In. X 10.70In. X 7.80In.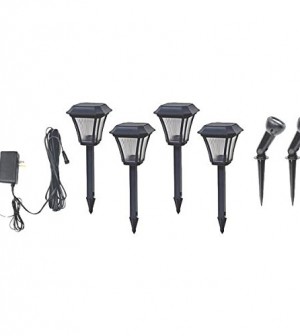 Product Features
LED low voltage lighting set - 4 path and 2 spot Lights are pre-wired with 10' cable Sure-lock connectors for quick installation Includes 20V dusk to dawn transformer Consistent light output all year long Grey finish on path lights - Black finish on spotlights
Product Description
With the Brinkmann 4 Plastic Path Light and 2 Spotlight LED Low Voltage Kit you can provide attractive ground level accent lighting for statues, fountains, foliage, and more along your garden, path or patio. Brinkmann Outdoors LED Low Voltage Landscape Lights are a perfect lighting solution to light up your home, trees or garden. The installation of this lightimage is quick and easy because the Low Voltage Landscape Light from Brinkmann Outdoors comes prewired and can be added to an existing landscape light system. The Brinkmann Outdoors Low Voltage Home & Garden Landscape Light is made of tough, weather resistant ABS plastic and a white LED bulb.

Customer Reviews