Coax Network Adapter Kit Model# ECB2500C
By
twhome
on December 11, 2013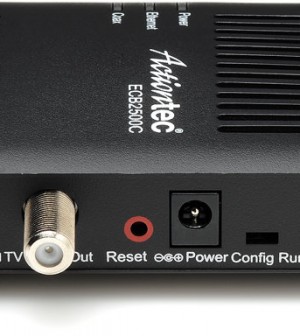 Easy to Set Up and Easy to Use
The ECB2500C MoCA adapter plugs into your current cable TV (coaxial) connections, giving you flexibility in where to connect, and eliminating the need for long cable pulls. It supports any Ethernet network-connected device, including cable boxes, Verizon FiOS, DVRs, Blu-ray players, DVD players, PlayStation PS3s, Xbox 360s, TiVos, PCs and more. (Satellite boxes are not supported.) To set up the ECB2500C, just follow the four simple steps below:
STEP 1: Plug an Ethernet cable into the Ethernet port of the adapter, and into an Ethernet port of the device to be connected to the network.

STEP 2: Plug a coaxial cable into the coax "in" port of the adapter, and into the coax wall port nearest to the device to be connected to the network.

STEP 3: Plug the power cable into the Power port on the back of the adapter, and into an electrical wall socket.

STEP 4: Make sure the coax and Ethernet lights on the adapter are both illuminated solid green.
Actiontec Quality and Service
Actiontec is a key supplier to leading telecom carriers, broadband and pay TV operators. Actiontec products undergo hundreds of hours of rigorous lab testing to ensure that they deliver enterprise-level performance, reliability and compatibility. All Actiontec products are backed by a full warranty, and 24/7 live technical support.
What's in the Box?
(Two) MoCA Network Adapter, one Ethernet cable, one power adapter and one Quick Start Guide.